Anchor Ultimate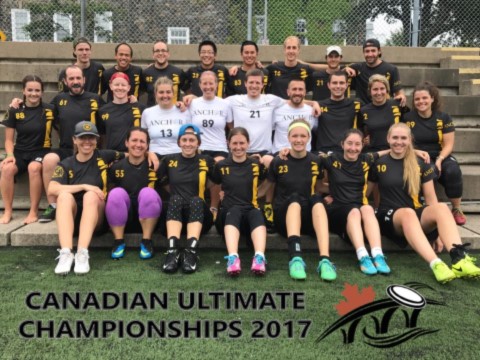 Anchor is the mixed (co-ed) competitive touring club team in Nova Scotia. Formed in 2016, Anchor has represented Nova Scotia and Atlantic Canada in the Canadian Ultimate Championships, as well as other tournaments across Canada.
Anchor has an active roster of 28 players who participate in four to five tournaments across Canada and Nothern USA. They compete in the Canadian Ultimate Championship, and were invited to represent Canada at the 2017 Pan-American Ultimate Champtionships. Anchor is based out of Halifax, and trains year round with tryouts held in the late spring. The current captains of Anchor are Gavan Gray, Jennie Khorus, Tyler Smith, and Lauren Haley, with Bobby Pederson of 360fit as their strength and conditioning coach
In 2017 Anchor went undefeated at the Canadian Ultimate Championship in Saskatoon, SK, and are the current national champions.
For more information visit their facebook page, Twitter, Instagram, or email them at This email address is being protected from spambots. You need JavaScript enabled to view it..